The uncertainties brought by the COVID-19 crisis cause tremendous stress in various areas of our lives. This led to more people consuming alcohol and substances. Last year, 12% of adults experience increased alcohol consumption or substance use. Although increased consumption of substances does not equate to addiction, it is still concerning. It can be hard to be objective when it comes to substance use. It will come to a point for an individual to seek for addiction help.
Thus, in this article, we will talk about the signs if you or your loved ones need to get addiction help. We will also discuss how to get started with the recovery process.
How To Know If You Need Help
Addiction or Substance Use Disorder (SUD) is a chronic, relapsing disorder wherein a patient compulsively seeks and uses substances despite the negative effects. Anyone can be affected by SUD at any stage of their life, as it cuts across genders and ages. It develops differently in every person. Various factors like biology, environment, genetics, and others influence it.
So, how do you know if your substance intake is beyond what is considered 'healthy' consumption? Here are some of the signs to watch out for:
-Loss of control & cravings: You find yourself thinking about it. You will be craving for that particular substance a lot. You try to stop or cut down your consumption but can't.
-Lack or sudden change of interests: You lose interest in the usual things you like, such as hobbies and routines. You may also engage in completely different risky activities or behaviors connected to substance use.
-Relationship problems: You have a hard time maintaining personal and professional relationships. Neglect of personal, familial, and professional responsibilities is also a sign. You may even find yourself in a completely new circle of friends (who are most likely using the same substance as you).
When You Should Seek for Help
At first, it may seem like a simple personal issue which you think you can resolve on your own. However, things may get worse. Make sure to get help when you experience the following:
-Unhealthy thoughts: You automatically think of alcohol or drugs whenever you are emotional. You may think that you cannot enjoy other activities if you don't consume substances. You may even experience irrational fear at the thought of running out of supply.
-Dangerous use: You use familiar and unfamiliar substances without knowing the effects. You may even take a different substance to overcome the effects of another one.
-Hospitalization: You have been hospitalized due to adverse effects of a substance you have taken, or due to an overdose.
-Conflict with the law: You steal substances or steal to pay for substances. This may also mean engaging with unlawful acts to acquire illicit or controlled substances.
-Continuous deterioration: Worsening of the physical, emotional, and psychological state.
These all seem very scary and overwhelming. Addiction can affect health, relationships, and even economic and social security. However, it is important to remember that through research and technology, we can now understand addiction better. We also know that there is treatment for addiction. Admitting and recognizing the issue is the first step to start addiction treatment.
Is It Easy To Get Rid of Addiction?
Addiction is a treatable condition. The questions that come with acknowledging the issue can be staggering. Is it easy to get rid of an addiction? How long does it take a person to overcome their SUD? There are no easy answers to these questions. Various factors and risks come into play in developing this disorder.
One of the important things to know is the cycle of addiction and its stages. The appropriate addiction help varies depending on you or a loved one's engagement with the substance. Is it your first time using it? Are you a regular user? One-time users can possibly develop a habit and become regular user. This will lead to a full-blown dependence or disorder. Thus, seeking a professional assessment (i.e. state rehab facility) will help determine how to get drug addiction help.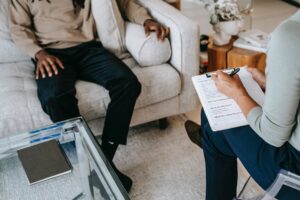 Repeated substance use can significantly change the body, especially the brain. Thus, overcoming an addiction is not a mere moral dilemma. Addiction is a chronic condition. It requires a long-term plan to prevent or minimize relapses. Relapses mean returning to substance use after attempting to stop.
How To Help A Drug Addict
As mentioned, SUD is a chronic illness that affects behavior and cognition. Most patients will need access to care program that is long-term or repeated to recover. Generally, a care program should be able to help the person:
stop using drugs

stay drug-free

be productive in the family, at work, and in society
There are various approaches to treating addiction. Normally, a treatment strategy includes medication (detox), counseling, at post-treatment support.
MEDICATIONS
Taking medications can help control withdrawal symptoms. This can also help decrease cravings as part of the detoxification process. These prescription medicines can also help in re-establishing normal brain function to prevent relapse. Various medications for detoxification are available for alcohol, opioid, tobacco addiction, and other illicit substances.
IMPORTANT NOTE: Medications for detox are not the end-all-be-all of recovery; it is just the preliminary step.
COUNSELING AND THERAPY
Counseling and therapy help modify your attitudes and behaviors related to substance use. The program is either an outpatient or inpatient. These treatments also improve and increase your (healthy) life skills and provide structure and support for long-term sobriety. Here are some of the methods or approaches you may encounter:
-Behavioral Therapy. Oftentimes done one-on-one, this include dialectical behavioral therapy (DBT), cognitive behavioral therapy (CBT), and motivational interviewing (MI). They aim to modify behavior, emotions, and attitudes. They help you participate in your own recovery and maintain abstinence. You can also improve communication and overall dynamics of families and close relationships.
-Group Therapy. Facilitated by at least one therapist, this method lays out a space for you to relate to other patients who are struggling with the same issues. This gives you or your loved one the chance to offer insights and help other patients. With this, you can build positive and nurturing relationships.
-Support Groups. These offer a safe environment for talking about personal struggles and addiction issues. These can be mutual help groups (12-step programs), recovery high schools, and peer recovery support. These groups offer support and continuing care after completing rehabilitation. But they cannot be used as a substitute for a strategic, well-planned treatment.
According to the National Institute on Drug Abuse, key principles should be considered for an effective treatment plan. All in all, it is important to note that the success of a care program depends on your or your loved one's specific situation and unique needs. Of course, having a safe and secure environment and reliable support systems are still pivotal in your healing and recovery.
Where To Get Addiction Help
Recognizing the signs of possible substance addiction can be alarming. It is a much more daunting task to start seeking addiction help. The good news is that there is a lot of helpful information out there. Through modern advancements, various effective approaches are also widely accessible. Remember that addiction is a chronic illness. Like any chronic illness, it is treatable. Yes, healing and recovery are possible.
If you are looking to get started with addiction treatment in Arizona, we at Buena Vista Health and Recovery Centers are here to help. We provide patient-centered treatment. Our individualized care approach will ensure that every individual is comfortable and safe.
Ready to regain control of your life? Take the first step on your journey to addiction recovery today.
Get in touch with us at (800) 922-0095 or visit us in the following locations:
CAVE CREEK
(623) 323-1970
29858 N. Tatum Blvd.
Cave Creek, AZ 85331
CHANDLER
(480) 680-0606
3033 South Arizona Avenue
Chandler, Arizona 85248
TUCSON
(520) 436-7860
5151 East Pima Road
Tucson, Arizona 85712
SCOTTSDALE
(623) 323-7986
8171 E Indian Bend Rd
Scottsdale, AZ 85250